Data analysis can be traced as far back as the 19th century. In those days, companies used an incredible number of spreadsheets to collect and find trends within their data sets. Today, it's estimated that about 2.5 quintillion bytes of data is generated every day. In fact, 90 percent of the world's data has been generated in the past 2 years. So how do we make sense of these mountains of information? With the help of data analysts!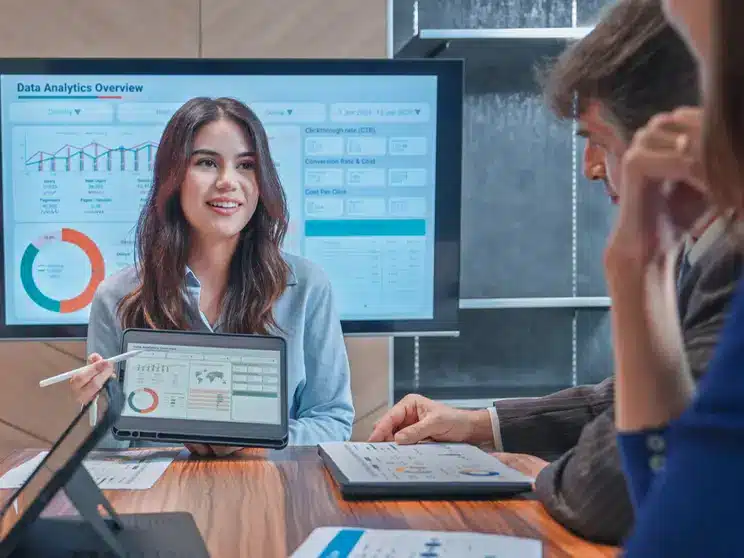 What Does a Data Analyst Do?
A data analyst has an important role to play in companies of all sizes. They are responsible for reviewing and mining data and finding solutions to everyday business problems. Working behind the scenes, the efforts of data analysts are used to guide important company decisions, from who to hire to which products to sell. How do they determine this? By taking all available data and breaking it down into easily understood concepts and predictions for stakeholders and company leaders.
What Skills Does a Data Analyst Need?
The field of data analysis shows no signs of slowing down. By earning a degree or certificate in a related field, like computer science, you can find your place in this exciting field. Here are a few of the skills you'll need:
Structured Query Language (SQL)
Microsoft Excel
Data Visualization
R or Python-Statistical Programming
Machine Learning
Critical Thinking
Presentation Skills

In this article, we'll break down all the skills required to start your career as a data analyst.
Skills for Data Analysts
Structured Query Language (SQL)
Structured Query Language (SQL) is a programming language designed for storing and processing complex data sets in a relational database. A relational database assembles data into columns and rows across multiple charts and can be combined using what's called a primary or foreign key. These distinctive identifiers display the dynamic relationship among the various databases.
SQL is often considered the first step when learning to work with Big Data. Companies use data analytics to understand performance, provide insights and help make relevant changes for the future. According to the U.S. Bureau of Labor Statistics, people with SQL skills earn an average of $98,860 annually, not to mention are qualified for over a million jobs on LinkedIn.
Microsoft Excel
There is more to Excel than just a spreadsheet tool. This software has been foundational for millions of business databases since it was first released in 1985. The expansive and flexible functionality of Excel makes it perfect for collecting, sorting, and understanding large amounts of data. Strong knowledge of Microsoft Excel is versatile in the current job market, with the demand only increasing. 82 percent of jobs require skills in Excel, and those who have them see a prospective salary increment of 12 percent.
Data Visualization
The value of data often relies on how it is communicated to non-technical team members or leaders. When data teams are ready to present their findings to the rest of the company, they usually convert data into charts, dashboards, and graphs for readability.
R or Python-Statistical Programming
R or Python can perform data tasks about 10 times faster than Excel. R and Python are programming languages that execute progressive analysis and predictive analytics. However, they have distinctive roles, and data analysts may choose one or the other according to their current needs. Python is used for developing and deploying different projects, while R is better for visual representation and data analysis. Most data analysts combine these languages for the best results. 
Machine Learning
Artificial intelligence and machine learning is taking the world to a different dimension. According to SalesForce, 84% of marketers used A.I. in reporting in 2020, compared to 29% in 2018. That's a whopping 186% inception in two years. Machine learning focuses on using algorithms and data to imitate and play out human behavior and trends. This skill will only become more important as time goes on. A recent international study revealed that 63% of employers feel they don't have enough employees with AI and machine learning skills.
Critical Thinking
In addition to the ability to analyze huge amounts of data, a data analyst must be able to think outside the box. Critical thinking helps data analysts make judgments not inherently obvious from the data they are working with. Whereas this is often considered an innate skill, you can improve these skills through a degree or certificate program from UoPeople.
Presentation Skills
Great communication skills complement data visualization. Data outcomes can be complex, calling for the best communication skills to help translate all the technical jargon for others at the company. For a data analyst to thrive, these skills are essential. It's how they relate to colleagues who may have a good understanding of data or none at all.
Career Options for Data Analysts
According to the U.S. Bureau of Labor Statistics, employment of data analysts is expected to grow by 36%, much faster than the average of all occupations. Over 13,000 job openings are available annually, with most employers preferring applicants to hold a master's degree or higher. According to the BLS, the average wage of a data analyst is $100,910 annually. A master's in data analytics can help you secure a position as a:
Data analyst
Data scientist
Analytics/business translator
Chief data officer
Big Data Architect
Machine learning engineer
Chief technology officer
Logistics analyst
Business systems/management analyst
Developing the Skills for Data Analysts
The first step to obtaining a master's in data analytics is knowing the skills necessary for the field. Earning an MBA with a focus on data analytics is a solid option for those who want to develop business acumen as well. A background in a related field, such as economics, statistics, math, or computer science will help you develop the necessary skills.
Getting Started
University of the People offers tuition-free online programs, you can pursue a bachelor's degree in Computer Science or complete a short-term certificate program in Data Science. By providing you with valuable skills and knowledge, these programs can help you transition to a career in data analysis.
At UoPeople, there are no live lectures and no set class times. Instead, you can enjoy the freedom of online flexibility and study on your own schedule from anywhere in the world.