A Master's of Business Administration (MBA) is a worthy goal that opens exciting career opportunities around the globe. Getting an MBA is traditionally quite expensive, but does it have to be? Is there such a thing as free MBA programs online?
The good news is, yes, there are free online MBA programs, but first, let's learn about what an MBA is.
What is an MBA?
In 1908, Harvard University created the first MBA program with 15 faculty members and 80 students. In its early years, the MBA wasn't considered to be on the same level as other programs like law and medicine, but it slowly and steadily gained traction and standing. Today, the MBA is the most popular, sought-after degree with an excellent international reputation.
An MBA program is a generalist type of degree which means that your studies will be holistic and wide-ranging, covering accounting, finance, marketing, and leadership. You'll study business theories and have opportunities to put your skills to the test in real-life situations.
Business schools have evolved over the decades and now offer in-person, full-time, and part-time classes, executive-level studies, and even free online MBA programs and courses.
Source: Unsplash
What's an Online MBA Course?
Online MBA programs offer the same course content as traditional in-class programs. Students take many courses across several disciplines ranging from accounting, to ethics, to business law.
Online learning provides flexibility for busy people trying to juggle work and personal commitments but who want to pursue a free online MBA.
Online learning can be asynchronous, synchronous, or a combination of both. Asynchronous learners access course material through a learning management system like Moodle, on their own time. Synchronous learners attend class via a platform like a Zoom on specific days and at set times.
Let's take a look at some schools that offer free MBA programs, or an MBA certificate online. And let's consider how to get an MBA for free.
Source: Unsplash
Free MBA Programs
The costs for an MBA can range from tuition-free to over $100,000 at Ivy League colleges. There are also other learning opportunities called MOOCs – Massive Open Online Courses – which allow people to take college-level courses for free or at a significantly reduced cost.
While MOOCs aren't transferable college credits, they are recognized as valuable business education tools, and many companies will often reimburse any tuition costs incurred by their employees.
Let's look at some colleges with MBA programs that also offer free online MBA content on MOOC platforms like Coursera and edX.
UC (Denver) Business School's online MBA program features 9 different specializations.
Students take 30 core credits and then choose a specialization. All courses are asynchronous – students have a great deal of flexibility around scheduling study time. The MBA program can be completed in as little as 16 months.
UC Denver offers MOOCs advanced business courses such as Business Analytics, Data Warehousing for Business Intelligence, and Researcher Management and Leadership Training.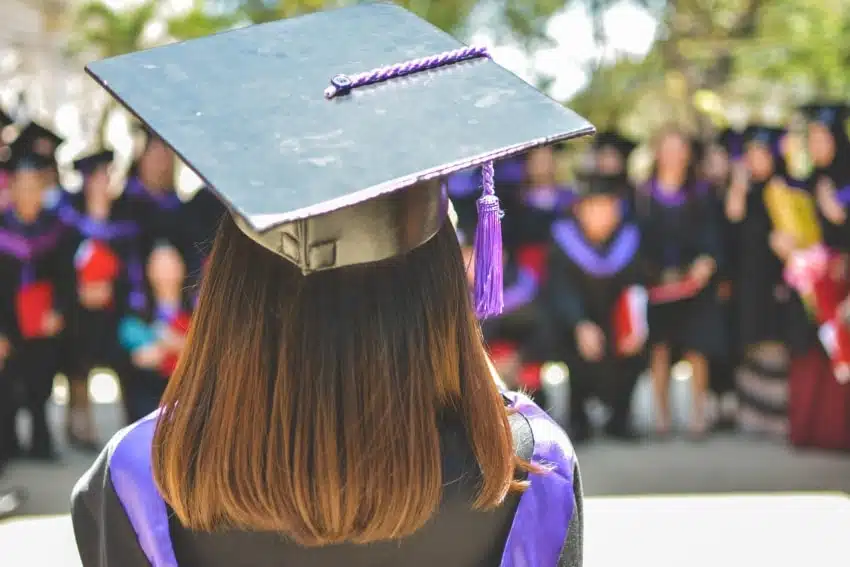 Source: Unsplash
Florida International University offers a completely online Professional MBA (PMBA) that can be completed in 18 months. This highly-rated program also offers performance-based scholarships up to $15,000 for eligible students. The Professional MBA has three different tracks, five-term starts, and ten specializations to choose from.
FIU offers free online MBA courses such as Project Management Essentials through its open-source learning page and updates courses regularly.
The University of the People is unique among business schools because it offers a tuition-free MBA program. UoPeople has removed the common barriers to a college education by eliminating entrance exams and having a 100% acceptance rate.
Students seeking admission to the UoPeople's MBA program need a bachelor's degree from an accredited U.S. institution or equivalent, two years of work experience, one reference, and English language proficiency. UoPeople also offers Business Administration certificates in five specialties.
WVU's online MBA program is a hybrid model. Students complete most of their coursework online but are also required to participate in two 3-day on-campus seminars that allow them to network and engage in experiential learning.
Through the Coursera platform, West Virginia University offers courses such as Forensic Accounting and Fraud Examination, Account Management and Sales Force Design, and Sales Force Management.
The first course that W&B MBA students take is Renaissance Manager. Developed around the ideals of DaVinci and adapted for the modern world, it teaches students to approach business with intellectual curiosity, develop broad knowledge, and think systematically and logically.
Although William and Mary don't offer MBA courses on any MOOCs platforms yet, they are one of the least expensive MBA programs in the nation and have a low student-to-instructor ratio.
UC Davis offers California's first and only online STEM-designated MBA program focused on preparing students for management opportunities in STEM fields. This MBA program is both asynchronous and synchronous, so students should be prepared to meet online at designated times for some classes.
UC Davis offers several courses on MOOC platforms, including Coaching Skills for Managers, Market Research, and The Growth Mindset.
UNC's online MBA program offers full and part-time options and is designed to be completed in 18 to 36 months. The program's five concentrations are entrepreneurship, marketing, finance, strategy and consulting, and data analytics and decision making. Students in this STEM-designated program also participate in two in-person, immersive experiences called Summits held at different locations around the world.
Keenan Flagler offers a 100 hour MOOC certificate course called Capital Markets, taught by visiting UNC professors.
The hallmark of MBA classes at the Martin J. Whitman School of business is small 20-person classes that set the stage for engaged discussion and learning. The MBA program features six specializations – accounting, business analytics, finance, marketing management, entrepreneurship, and supply chain management. Students are also required to attend three in-person residencies held in locations around the world.
Syracuse University offers several courses on various MOOC platforms including Strategic Change Management and Enterprising Computer strategies for those interested in IT.
There are several MBA and Master's programs at Arizona State University's W.P. Carey School of Business. Their online MBA program is ranked #10 by the U.S. News World and Report.
ASU offers several free online MBA courses on the edX platform, including Microeconomic Principle, Global Leadership and Personal Development, and States Markets in the Global Economy.
The Wharton School at the University of Pennsylvania was founded in 1881 and is recognized for producing graduates who are skilled across all business specialties. They offer many individual courses and business and management classes for an MBA certificate online.
The learning is asynchronous, and each course is divided into four modules designed to be completed in 4 to 6 weeks. Wharton Online offerings are certified CEU (Continuing Education Units) which is an advantage if you work for a company that will reimburse education costs.
Get an MBA Without the Crushing Costs
Students in that very first MBA program more than 100 years ago would be amazed at how much business education has evolved. There are in-person classes, women make up 41% of the MBA student population, students can study online, and there are free MBA programs.
If you are considering getting an MBA there have never been so many options available to you, and it's a great time to check out free online MBA programs and courses!
Nathaly Ordonez
Business Administration Student, US